The 7 Habits Of Successful Content Creators
Episode 5: The 7 Habits Of Successful Content Creators
We put the spotlight on Content Marketing Studio show host Pascal Fintoni who shares his lessons as a digital marketing trainer and content marketer.
Watch the Q&A Replay session below:
In this episode we explore the following topics:
How to get started if you are new to content marketing and how to avoid burn-out if you are a regular content creator
Why the term 'content marketing' could soon become meaningless if you do not explore its definition much closer
The importance of the perspective of the 'content consumer' and the three stages of trust: visibility-credibility-interactivity
How the '7 habits of successful creators' can provide simple solutions to the challenges facing individuals tasked with content marketing
The need to embrace the 3 forms of content creation: conception, curation, contribution to avoid losing your audience
The essential online tools and apps to help you create better online content faster
Key resources recommended by Pascal Fintoni for content curation:
Key resources recommended by Pascal Fintoni for content creation:
About Pascal Fintoni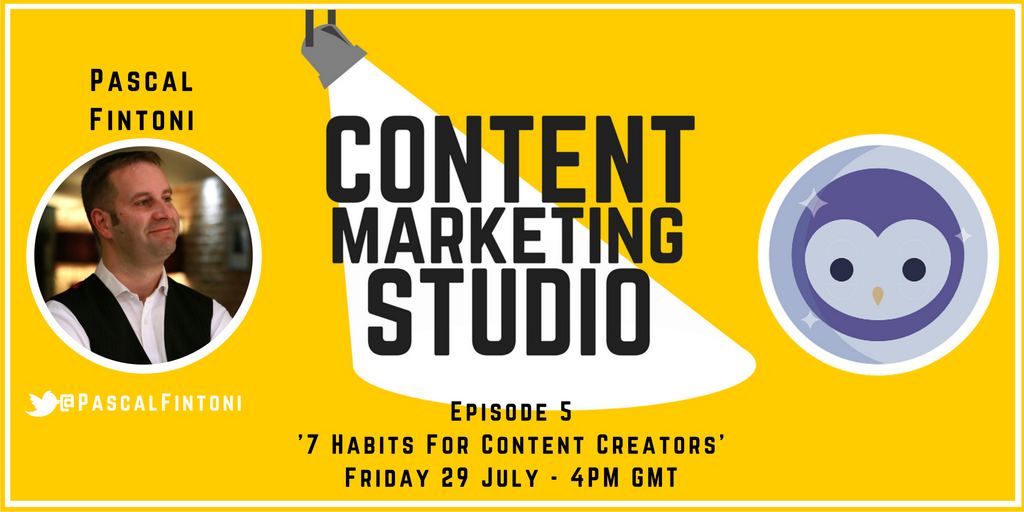 Pascal Fintoni started his career in 1994 in London working for a well known holiday company creating campaigns for TV, radio, newspapers and of course the Internet. Pascal quickly developed a passion and unrivalled knowledge for digital content leading to his appointment as the Chief Executive Officer at The Centre for eBusiness in 2009.
Pascal now runs his own agency – ArcLight Marketing and Media Ltd – specialising in digital marketing and website content training. Pascal is also a film producer and director and he has successfully introduced many of the storytelling techniques used by filmmakers into his coaching to help his clients create better online content faster.
If you would like more information on what was discussed in this episode, feel free to contact Pascal Fintoni on:
Thank you for watching and listening!
Please share today's show with your community if you feel that it would be useful to them. Also, we welcome suggestions for topics and guests that would help all of us create better online content faster. Simply get in touch with me on pascal@pascalfintoni.com
Photo Diary
A collection of photographs from our digital marketing speaking and training sessions.
Pascal Fintoni & Associates is a trading name of ArcLight Marketing and Media Ltd. Reg No. 07934869
© 2011- 2023 Pascal Fintoni. All Rights Reserved.