PSYDRO.COM – How To Use The Power Of Customer Feedback And Reviews To Boost Sales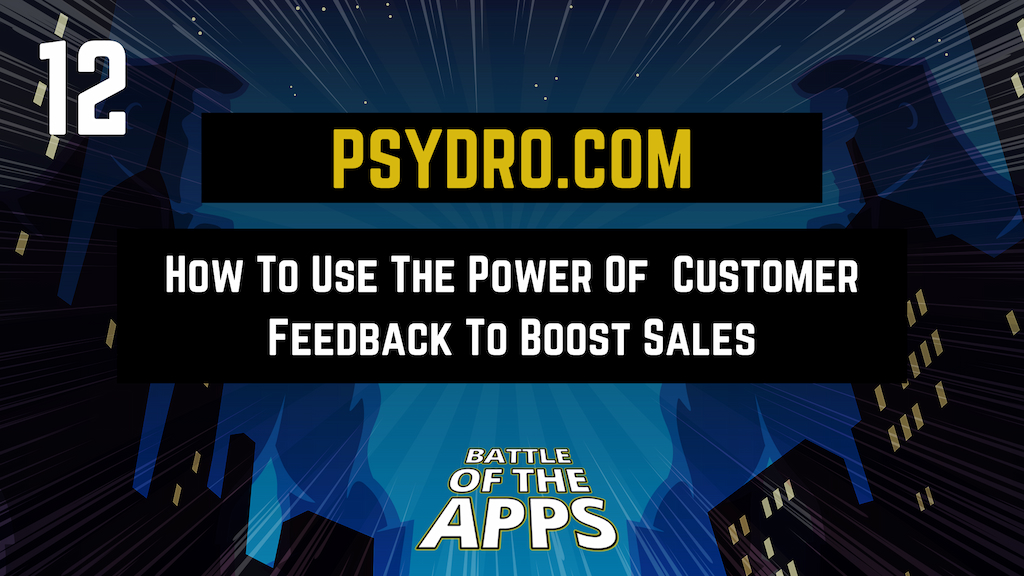 PSYDRO.COM – How To Use The Power Of Customer Feedback And Reviews To Boost Sales with Tony Ward.
Even though we are fast becoming a digital-first world, your customers will still use reviews and feedback to inform their decision to use your products and services.
In this episode of Battle Of The Apps, I am joined by Tony Ward entrepreneur, investor and the co-founder of Psydro.com the world's first review social platform:
You can watch this episode from to start to finish or you can fast-forward to your preferred segment:
[00:20] Introducing Tony Ward and the vision behind Psydro.com including the main inspiration for creating such an immersive solution for both consumers and businesses.
[05:40] A detailed demonstration and tour of Psydro.com with the key elements of a social environment for reviewers and a smart marketing experience for products and services providers including:
community and peer-to-peer interactions for reviewers including gamification, audio and video messages, competition and give-aways
template driven invites powered by automation for businesses including capture links and buttons as well as live chats to truly power your customer feedback
customer insights with easy to follow data breakdown and charts to inform your product or service design (really impressive!)
access to the 'Review Marketing Suite' to convert reviews into attractive social media posts and attract new customers
future plans for the platform with greater integration with your website
[19:50] Q&A about the platform, how different types of businesses could take advantage of the many features offered by Psydro.com and why we should make using reviews a core part of our business development efforts.
[28:20] Final reflection on a recent article published by Tony Ward about the power of word-of-mouth and the importance of taking the initiative to support your referrers.
[31:40] The 'Battle Of The Apps' fun quiz and final words from Pascal and Tony.
Did you enjoy this conversation with Tony Ward? If you would like to book your own no-obligation demo simply click on the link below:
About Tony Ward
Tony Ward is passionate about anything 'ecommerce' and 'emarketplace' and using the power of your customer's voice to boost your sales. He is an investor, tech entrepreneur and the co-founder of Psydro.com the world's first social review platform providing both reviewers and businesses a truly immersive experience.
Thank you for watching and listening!
Please share today's show with your community if you feel that it would be useful to them. Also, we welcome suggestions for topics and guests that would help all of us create better online content faster. Simply get in touch with me on pascal@pascalfintoni.com
Photo Diary
A collection of photographs from our digital marketing speaking and training sessions.
Pascal Fintoni & Associates is a trading name of ArcLight Marketing and Media Ltd. Reg No. 07934869
© 2011- 2023 Pascal Fintoni. All Rights Reserved.