How To Work With A Graphic Designer and Get That eBook Published!
Episode 28 – How To Work With A Graphic Designer and Get That eBook Published with Claire Jenks.
We talk to Graphic Designer and Creative Artworker Claire Jenks about finding and appointing the perfect creative partner for your business, what to consider when building your visual identity and how to plan and publish your next ebook:
During the interview, we ask Claire to share her views and advice on:
Why it can be a challenge for business owners to find the right graphic designer for their projects
How to work with a creative professional to get the best results from the working relationship
What the many benefits can be when bringing a graphic designer onboard for your ebooks and downloads
Why you should have a process to appoint the right partner and what those steps should be
Why recommendations are sometimes not quite enough to appoint the right graphic designer for you
The kind of questions you should be asking when you meet your potential creative partner for the first time
What should be included in a design brief to get the right ebook produced for your website such as:

business overview and brand values
descriptions and examples of finished product
content and visuals you already have
deadline and key milestones important to you
goals and expected results once ebook is live

How Claire would approach working with a new client with a case study from a recent project
Key resources mentioned by Claire Jenks in this episode:
About Claire Jenks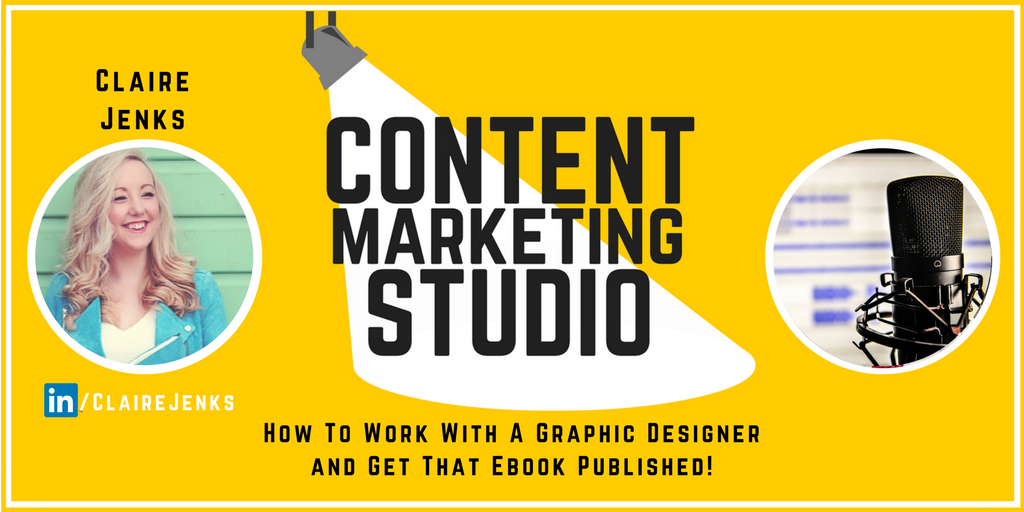 Claire Jenks is a graphic designer specialising in brand identity and content creation. Based in the North East of England, Claire can help you understand your brand and become more confident in publishing material on and offline by providing you with a bucket load of information, lots of actionable tips and tactics, and of course her graphic design service!
If you would like more information on what was discussed in this interview, feel free to get in touch with Claire on:
clairejenks.co.uk official website
instagram.com/clairejenksdesign
facebook.com/ClaireJenksDesign
Thank you for watching and listening!
Please share today's show with your community if you feel that it would be useful to them. Also, we welcome suggestions for topics and guests that would help all of us create better online content faster. Simply get in touch with me on pascal@pascalfintoni.com
Photo Diary
A collection of photographs from our digital marketing speaking and training sessions.
Pascal Fintoni & Associates is a trading name of ArcLight Marketing and Media Ltd. Reg No. 07934869
© 2011- 2023 Pascal Fintoni. All Rights Reserved.